Stock Explorer
The comprehensive tool to retrieve, organize and rapidly access stock quotes in financial databases all over the world. IQFeed®, Yahoo Finance, MetaStock®, CSV, TC2000®, Microsoft Access® and Microsoft SQL Server, IBM DB2, Oracle®, proprietary Time Series storage.
Stock Explorer® is the ultimate one stop solution to organize and easily maintain financial data such as stock quotes, sales statistics and any other collections of ordered quantitative observations having the time series nature.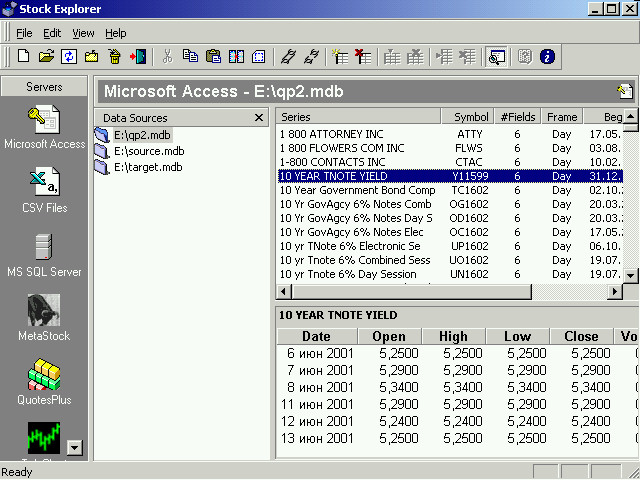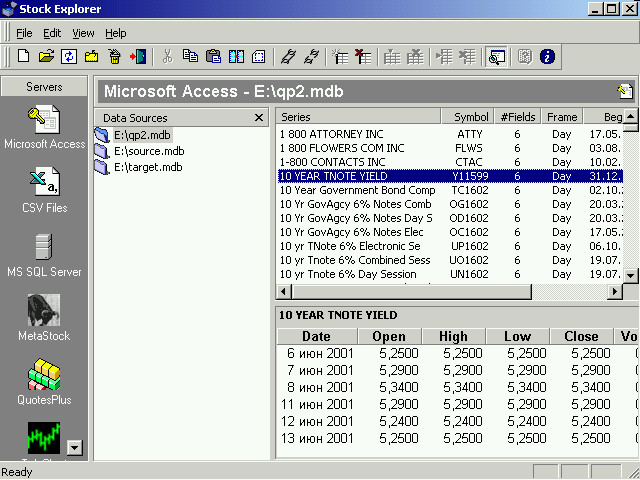 Stock Explorer® supports all major industry standards for data formats including read-write support for the latest versions of Equis MetaStock® files, CSV text worksheets, TC2000® and QuotesPlus® data warehouses as well as own native SQL drivers to Microsoft Access® and Microsoft SQL Server which enables easily create and maintain own data storages of almost unlimited capacity with one mouse click.
Persistent table linking with the powerful automatic update procedures enables for seamless synchronization from real time feeds as well as easy change of data provider on the fly.
Support of interactive data editing, cut and paste from windows clipboard allow manual input or repair of data.
Stock Explorer® offers unified and remarkably easy to use point-and-click interface to access completely different data sources thus isolating the user from all complexities of heterogeneous data access in mixed environments.
Adaptive windows and context menus make it easy to learn and use even for a novice while the underlying powerful industry standards such as native SQL engine, smart caches and optimized virtual lists ensure smooth operation on huge data stores including shared corporate warehouses.
The drastic difference of Stock Explorer® from other similar tools lies in its unique flexibility due to extensible architecture based on SQL standard and original data manager. In this way Stock Explorer® is not bound to certain data format (including, in fact, its own) but allows for the use of many formats simultaneously. In particular, it does not introduce any predefined bar standards as, for example, MetaStock® and allows you freely extend or narrow stored data fields as necessary. To observe this universality you can make easy experiment preparing with Stock Explorer® the sample database in *.mdb file and then easily discover well formatted tabular data in Microsoft Access.
Built-in SOAP server to share your database over network or even broadcast to the whole world
Open WSDL API to access engine functions from Java™ and Microsoft .NET platforms
Easy point-and-click interface similar to Microsoft Outlook®
Stunning coloring original charting with arbitrary scaling and full history review
Interactive datasheet with fast virtual scrolling
Attractive summary report for each symbol
Personalised notes and comments to organize and secure your trading experience
Fast symbol search and selection by any text patter or symbol
Visual maintenance of multiple portfolios from one optimized desktop
Free world wide historical and daily quotes directly from Yahoo® Finance
Uncompromised reliability of enterprise scale data warehousing with Microsoft SQL Server and IBM DB2®
Top performance Oracle© driver compatible with Oracle time series warehouses for 9i and 10g families
Native read-write support of the latest Metastock® format
Full access to world leading financial data suppliers such as TC2000®
Reading and writing comma separated text files (CSV)
Powerful stock finder to quickly scan and absorb all quotes data on you hard drive
Ever extending family of data drivers to support newly emerging formats
Open standard for third party independent development of new drivers
Easy migration of entire databases across formats
Persistent data linking with full automated update
Easy relinking option enables to switch provider on the fly or combine multiple providers
Manual data repair facility, editing of individual values, new row and column insertion
Interactive data paste and copying using Windows clipboard
Open SQL compatible storage schema
Reliable high speed access to external data sources using ODBC and DCOM
Free powerful DCOM API for integration of StockFusion® engine into your custom trading software